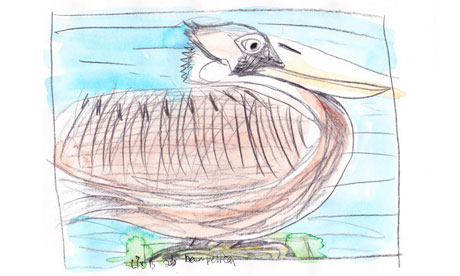 As the oil spill disaster in the Gulf of Mexico becomes worse and worse every day, there are some incredible stories of individual doing their part to help.
One of these stories if of a an 11 year old girl from New York. Olivia Bouler has helped to raise thousands of dollars for various conservation charities by offering to donate dozens of her drawings to anyone pledging money. She says her inspiration came after bursting into tears when watching a news report about the slick's advance towards the gulf coast shoreline where she holidays each year with her family.
She responded by writing the following letter to the Audobon Society:
Dear Audubon Society,
As you are all aware of, the oil spill in the Gulf is devastating. My mom has already donated a lot of money to help, but I have an idea that may also help. I am a decent drawer, and I was wondering if I could sell some bird paintings and the profits to your organization. My mom is in touch with an art gallery where I live. She is going to sell them here. I also am hoping to go to Cornell in the future. I want to become an ornithologist. I know a few species of birds. I also acknowledge that this is breeding time for plovers, terns etc. I will do all in my strength to earn money. All I need is your OK. Here is a picture of a northern cardinal as a sample.
Thank you for your time.
Olivia
11 years and willing to help.
The Audubon Society immediately contacted her parents and asked if it could buy one of the drawings to hang in its Manhattan headquarters. Charity officials then discussed how best to use Olivia's bird paintings as a fund-raising tool and it was decided, with her permission, that her watercolours of birds would be used to raise money for several groups, including the Mobile Bay National Estuary Program, the Weeks Bay Foundation and the Sierra Club.
Anyone who makes a donation to these groups is being asked to email Olivia's mother (
nadinebouler@hotmail.com
) and Olivia will then draw a bird with pencil, paint it, and post it to the donor.
To learn more about the project and view more of Olivia's pictures, visit the
Facebook Page - Save the Gulf: Olivia's Bird Illustrations
.
Source: Guardian UK